Windows:
To download the VPN client connection RoTunneling, please visit the link below:
1.RoTunneling VPN v 4:
Download RoTunneling VPN v. 4 - Speed up to 980% higher in the VPN technology. Packets are encrypted (DHE-RSA-AES128-SHA) and encapsulate traffic https, DNS, ICMP.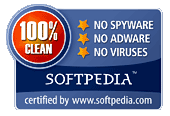 RoTunneling VPN client works on both 32-bit systems (x86) and on the 64-bit (x64) operating systems compatible: Windows 98, Windows Me, Windows 2000, Windows XP, Windows 7, Windows 8, Windows 10 (Beta).
Are you a security enthusiast, developer, or just want to see RoTunneling VPN application source code, now you can download it from here.
2. Additionally, you can choose to connect to the Protocol IPSec/L2TP, configuration instructions:
Plug and Play VPN Routers:

You can choose a VPN Plug and Play VPN router from our partner FlashRouters.
Fill in add to cart form the name of your provider RoTunneling VPN: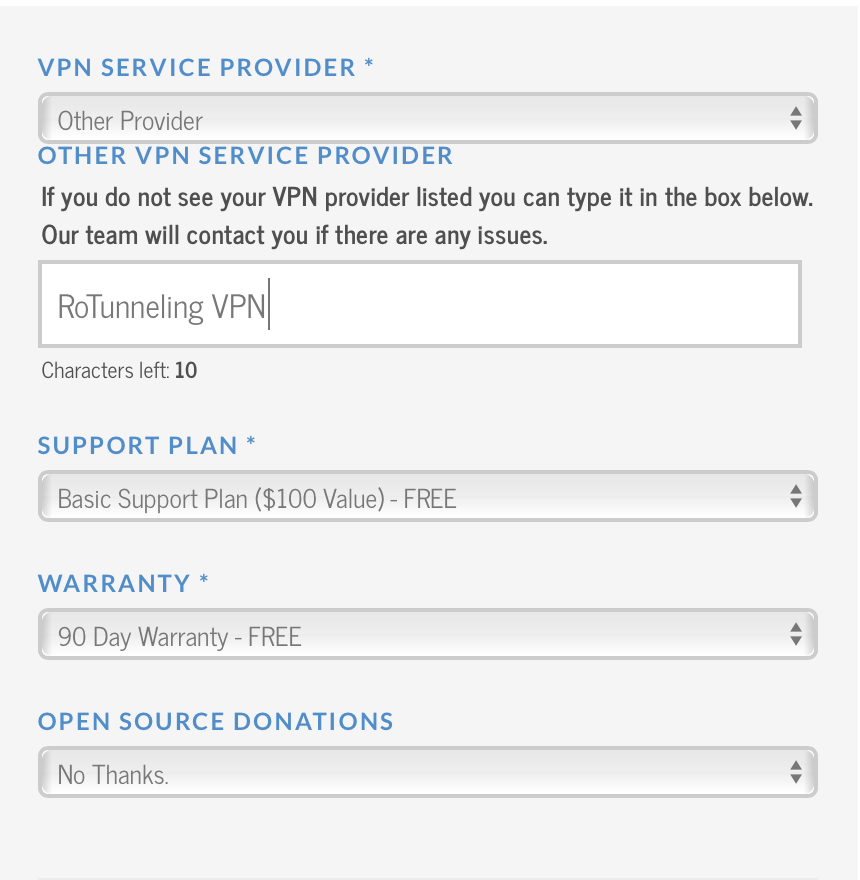 In checkout page, fill in your username, password, your preferred server location (Romania 1, Romania 2, Romania 3, USA). And if you use a local proxy server for your internet connection fill in your proxy address and port: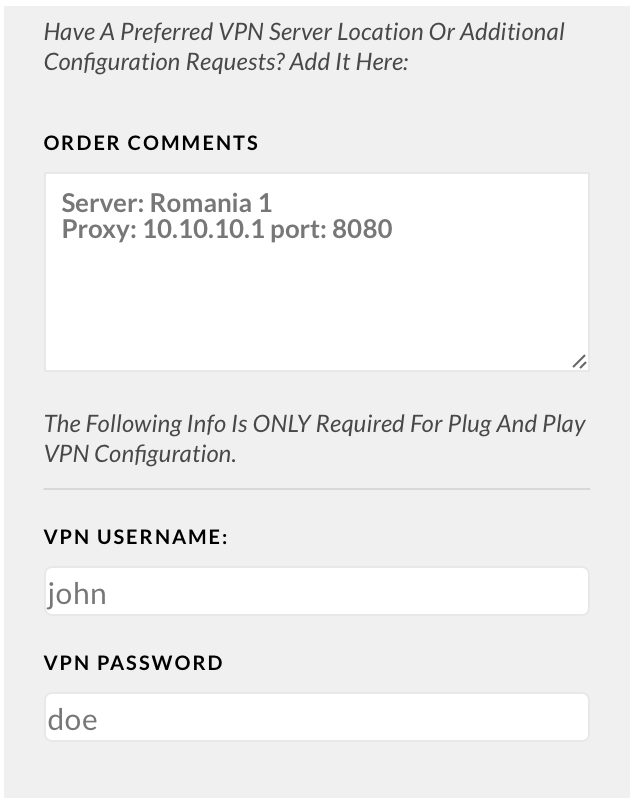 Linux:
1. OpenVpn:
$ wget https://www.rotunneling.net/config.zip
$ unzip config.zip
$ sudo openvpn Bucuresti-1.ovpn
Then open a browser and enter any site without https, you will be redirected to the login page.
2. L2TP IPsec Ubuntu/Debian/Linux Mint:
Open terminal and run commands:
$ sudo apt-get install openswan xl2tpd
$ sudo apt-get install openswan xl2tpd
Select "NO" If you are prompted to install a certificate.
Next add repository for L2TP GUI
$ sudo apt-add-repository ppa:werner-jaeger/ppa-werner-vpn
$ sudo apt-get update
$ sudo apt-get install l2tp-ipsec-vpn
In dash home, search for "L2TP Ipsec VPN Applet", in Linux Mint it will appear in the Internet category.
After you open will appear next to the clock a new icon, right click on it and select: "Edit Connections…"
It will open a window called "VPN Connections" click "Add" enter connection name ex: "Bucuresti-2" then click OK.
Select the connection created and choose "Edit…", click on "IPsec" tab, write at "Remote Server" address: ro-3.rotunneling.net (or buc-2.rotunneling.net or usa.rotunneling.net, france.rotunneling.net or buc-1.rotunneling.net ) write at "pre-shared key" code: vpn
Then navigate to the tab "PPP", select "Allow these protocols", where tick all options, then insert your username and password.
Click OK, and then right click on the icon next to the clock, and choose "Bucuresti-2".
You can use RoTunneling VPN on Ubuntu, Debian, Linux Mint.
Mac OS X:
1. SSTP, using iSstp MAC OS X App, compatible also with El Capitan.
Add new connection and fill up Name and Server address as in the image. 
Servers adresses are:
Romania 1 - buc-1.rotunneling.net
Romania 2 - buc-2.rotunneling.net
Romania 3 - ro-3.rotunneling.net
Usa - usa.rotunneling.net
France - france.rotunneling.net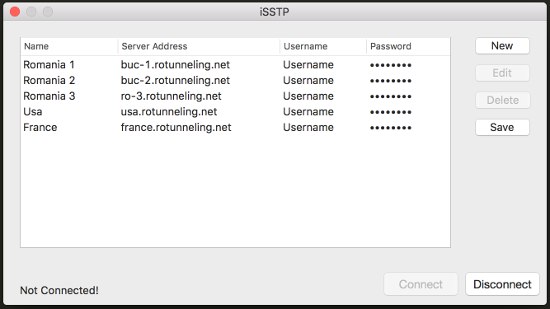 After that, you need to fill Username and Password fields with your username and password.
Now you can connect to one of our connection points by selecting a server from the list and hit connect button.
1. Configure L2TP Mac OS X - use these settings to connect via L2TP.
2. OpenVPN
For OS X need to download the manual config, you can download them > here <.
Then unzip the files.
You will also need to download and install OpenVPN client, we recommend you use Tunnelblick, OpenVPN is a free client that you can download > here <
After installation it will ask if you already have a config file, select YES, and select the file.
It will import config, then you can connect easily import due to intuitive interface Tunnelblick.
Android:
For using RoTunneling VPN on Android you have 2 options:
1. Download and install RoTunneling VPN native Android client (in tests):
2. You can follow the following steps for configuring and using OpenVPN for Android app :
Install OpenVPN for Android application.
After downloading and installation, download the setup file  > here < we extract it.
If your mobile operator uses internet proxy settings, it should be removed, simply deleting IP and port.
Start the OpenVPN for Android import config from the location where it was saved.
Then fill your username and password and click connect.
Note: Does not require root.
iPhone:
Download from iTunes/AppStore Openvpn Connect
Open iTuness, go to applications, select OpenVPN Connect the bottom of the window.
Will enable you to import a config, download configuration files  > here < extract on your computer.
Then import them into iTunes Connect OpenVPN. then fill in your username and password.
Select the server and connect!
Note: No need jailbreak.